The new-look Belgravia Room adjoins the Ballroom and uses the same contemporary design language by interior architect John Heah, creating one seamlessly flowing space. The Belgravia can be used in conjunction with the Ballroom as a break-out room or cocktail/reception area. It also stands on its own as a venue with perfect dimensions for medium-sized events. For daytime events, the Belgravia has floods of natural light from floor-to-ceiling windows overlooking Wilton Place. Its separate entrance ensures privacy for your guests.
Room Configurations
Cocktail reception
Lunch/
Dinner
Dinner/
Dance
Theatre
Classroom
Boardroom Oval
Hollow rectangle
U-Shape
250
84
50
50
24
30
28
30
At a glance
Capacity: 24 - 250
Size: 94.5 sq m / 1017 sq ft
Location: Ground floor
Adjoining Rooms: Ballroom
Perfect venue size for celebratory social occasions
Natural daylight from beautiful large windows
Facilities & Decor
State-of-the-art audio-visual technology
Sophisticated sound and presentation equipment available
Wireless internet environment
Air conditioning
Designed by interior architect John Heah
Echoing the Ballroom, the ceiling has a distinctive three-dimensional surface
Versatile lighting
Large, elegant windows overlooking Wilton Place
Flooded with natural daylight
Occasions
Board meetings
Presentations
Conferences
AGM meetings
Breakout room from nearby Ballroom
Weddings
Cocktail receptions
Special occasion dinners and lunches
Bar & Bat Mitzvahs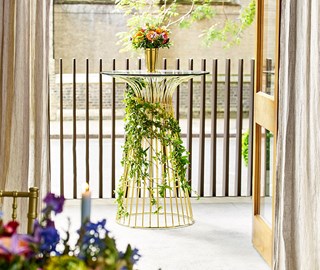 Take it to the terrace
The Belgravia Room's terrace is a breath of fresh air. Step outside and take in the views of Wilton Place, St Paul's Knightsbridge and watch the life of Belgravia go by. This is central London at its most leafy.