An anniversary dinner on a private garden terrace. A sparkling cocktail party for 200 guests. A baby shower with your best friends. Whatever the occasion, you can count on The Berkeley to bring a dash of inspiration and lashings of atmosphere.
From the striking contemporary Ballroom to a more intimate space, we'll help you match the setting to your event. Any special requests? Leave it with us. Whatever it takes, we'll help make your celebration a big success.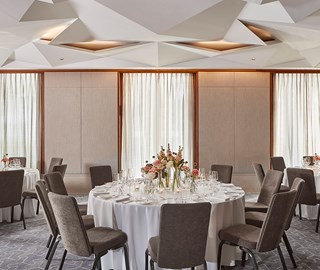 Event Spaces
From private dining to lavish cocktail parties, discover the setting that will provide the perfect backdrop for your special occasion.
See our spaces
Business Events
A renowned, central London location. A setting with style, history and prestige. A dedicated team ready to pull out all the stops. From private board meetings to full-scale conferences, make a statement at The Berkeley.
Plan your event
Weddings
A thoroughly modern ceremony in a cutting-edge ballroom? Or something a little more intimate, with a classic touch? We're here to make your dream day come true. Though you may still end up pinching yourself, just to make sure.
Plan your wedding