We are taking reservations for Collins Room from 17 May 2021, subject to government guidelines.
Prêt-à-Portea: the Couture Cakewalk
Ready-to-wear becomes ready-to-eat with our haute couture afternoon tea, which makes a welcome return for the Autumn-Winter season after a creative break. Vibrant, bold and joyful, the collection is a tribute to the runway successes of the fashion world.
Cinnamon spiced apples are transformed into a sharing showstopper that echoes Moschino's epic Marie Antoinette-inspired gown, complete with a larger-than-life wig. A pistachio sablé is the nutty base to a matcha and black sesame mousse cake, finished with fruit tulle 'lace' mirroring Riccardo Tisci's emerald Burberry trench. Simone Rocha's pearl evening bag cracks open to reveal vanilla ganache and passion fruit, while toasted coconut and Jivara chocolate become the homage to a Dolce & Gabbana monochrome masterpiece.
The cakewalk concludes with Marc Jacobs' swinging 60s coat and hat, reimagined as a delicate lemon and meringue-laced joconde, and Prada's stiletto-and-socks combination recreated as intricately piped chocolate biscuits.
As always, your tea also includes elegant canapés and sandwiches, with a selection of loose-leaf teas from our extensive collection.
Reservations
Afternoon tea reservations at The Berkeley can be made up to 90 days in advance.
Opening Times
Afternoon Tea is served Monday - Sunday: 1pm - 5.30pm.
Send a personalised gift via email or post.
Prêt-à-Portea Masterclass
Your opportunity to discover Head Pastry Chef Mourad Khiat's secrets behind fashion's favourite afternoon tea.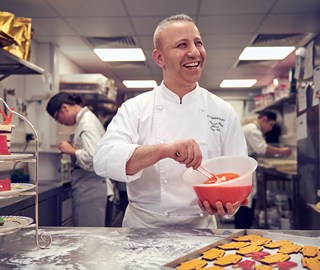 The perfectionist behind the pastry
Following in his pâtissier father's footsteps, the art of afternoon tea is personal for Head Pastry Chef, Mourad Khiat. Drawing on culinary traditions and catwalk collections from around the world, each delicate creation is an expression of Mourad's impeccable taste. Balancing beautiful flavours with intricate designs for the ultimate statement piece.
Read more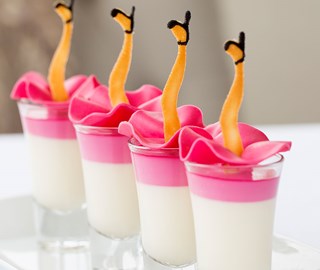 High-fashion bakes and biscuits
'Prêt-à-Portea: High-Fashion Bakes and Biscuits' was published to celebrate the 10th anniversary of our iconic afternoon tea with 20 recipes and baking techniques from the hotel's Head Pastry Chef Mourad Khiat.
Buy the book