Prêt-à-Portea: the Dior Couture Collection
This season's Prêt-à-Portea at The Berkeley, our legendary designer afternoon tea inspired by the world of fashion, sees the iconic designs of Christian Dior take to the cakewalk for an unprecedented solo show inspired by Christian Dior: Designer of Dreams at the V&A Museum.
The Dior Couture Collection transforms landmark pieces into exquisite biscuits, bakes and fancies. From the Junon Dress worn by Theo Graham at Le Pré Catalan in Paris 1949 to the Bar Jacket which has been synonymous with Dior since it took to the catwalk in 1947 as part of the 'New Look,' each piece this season takes inspiration from Dior's fashion history.
Your tea also includes a flavoursome collection of miniature savoury skewers, taster spoons, elegant canapés and tea sandwiches. To drink, choose a loose leaf tea from our extensive collection.

Prêt-à-Portea is priced at £60.00 per person.
Champagne Prêt-à-Portea, with a glass of Laurent-Perrier, £70.00 per person.
Signature Mocktail Prêt-à-Portea, with a glass of a refreshing Mango & Rooibos mocktail, £70.00 per person.
Couture Champagne Prêt-à-Portea, with a glass of Laurent-Perrier Rosé, Bollinger Rosé or Ruinart Blanc de Blancs, £76.00 per person.
From 15 November to 31 December 2019 we will be serving Festive Prêt-à-Portea only, from £75.00 per person.
This will include our fashion-inspired delicacies, as well as festive treats and your choice of a mocktail, a glass of champagne or a glass of mulled wine.
A 12.5% discretionary service charge will be added to your bill.
Reservations

Email: dining@the-berkeley.co.uk
Call: +44 (0)20 7107 8866
(Our reservations office is open Monday to Friday from 8am to 10pm and Saturday to Sunday from 9am to 9pm)

Afternoon tea reservations at The Berkeley can be made up to 90 days in advance.

Please note that the Dior Couture Collection will be served until 29 September 2019.
Opening Hours
Prêt-à-Portea service: 1pm - 5.30pm served daily in the Collins Room.

We cater for gluten and nut free diets. We tailor everything fresh to order, so please mention any dietary requirements when you make your reservation, and allow 24 hours' notice.
Prêt-à-Portea Masterclass
Your opportunity to discover Head Pastry Chef Mourad Khiat's secrets behind fashion's favourite afternoon tea.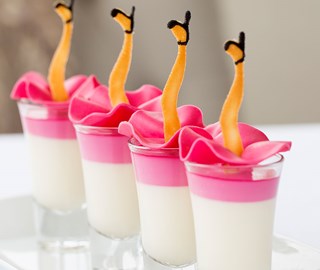 High-fashion bakes and biscuits
'Prêt-à-Portea: High-Fashion Bakes and Biscuits' was published to celebrate the 10th anniversary of our iconic afternoon tea with 20 recipes and baking techniques from the hotel's Head Pastry Chef Mourad Khiat.
Buy the book