Prêt-à-Portea: the Couture Cakewalk
After its short creative break, Prêt-à-Portea returns to The Berkeley with a vibrant Spring/Summer '21 collection. Showcasing couture cakes inspired by the runway successes of the fashion world, Prêt-à-Portea has become a firm favourite for fashionistas with a sweet tooth.
This season's collection debuts with Donatella Versace's ocean-themed cocktail dress, reimagined as a coconut darquoise and mango confit, encased with exotic fruit mousse and topped with a sugar starfish. An intricately iced vanilla biscuit – complete with signature sunglasses and bob – pays homage to the Anna Wintour puppet that graced the 'frow' for Moschino. While a citrus Victoria sponge carries off Tod's neon tote bag with acid-lime icing and florescent green Valrhona chocolate Ivoire.
Delicious debuts
Following in the fashion-forward footsteps of Valentino – whose vivid printed gown is depicted as a pistachio bavarois with Amerena cherry – three designers grace the cakewalk for the very first time this season. Isabel Marant's amethyst ensemble is an almond sponge with a beriolette jelly centre, glazed in glittering purple. While US label LoveShackFancy sees its striped two-piece envisaged as a Joconde sponge in a trio of colours, complete with a high-shine strawberry made with strawberry and rhubarb cheesecake. The season's centrepiece is Halpern's feather gown – a made-to-share financier cake with raspberry compote and domed Amatika chocolate with praline crunch, topped with grue de cacao and black wafer legs.
As always, your tea also includes elegant canapés and sandwiches, with a selection of loose-leaf teas from our extensive collection – or add a glass of chilled champagne to make it a truly celebratory occasion.
From 1 November 2021, Prêt-à-Portea will be priced at £64 per person.
From 12 November 2021 to 2 January 2022, we will be serving Festive Prêt-à-Portea only, from £79 per person. This will include our fashion-inspired delicacies, as well as festive treats and your choice of a mocktail, a glass of champagne or a glass of mulled wine.
Reservations
Reservations at The Berkeley can be made up to 90 days in advance.
Opening Times
Afternoon Tea is served Monday - Sunday: 1pm - 5.30pm.
Send a personalised gift via email or post.
Prêt-à-Portea Masterclass
(suspended until further notice)
Your opportunity to discover Head Pastry Chef Mourad Khiat's secrets behind fashion's favourite afternoon tea.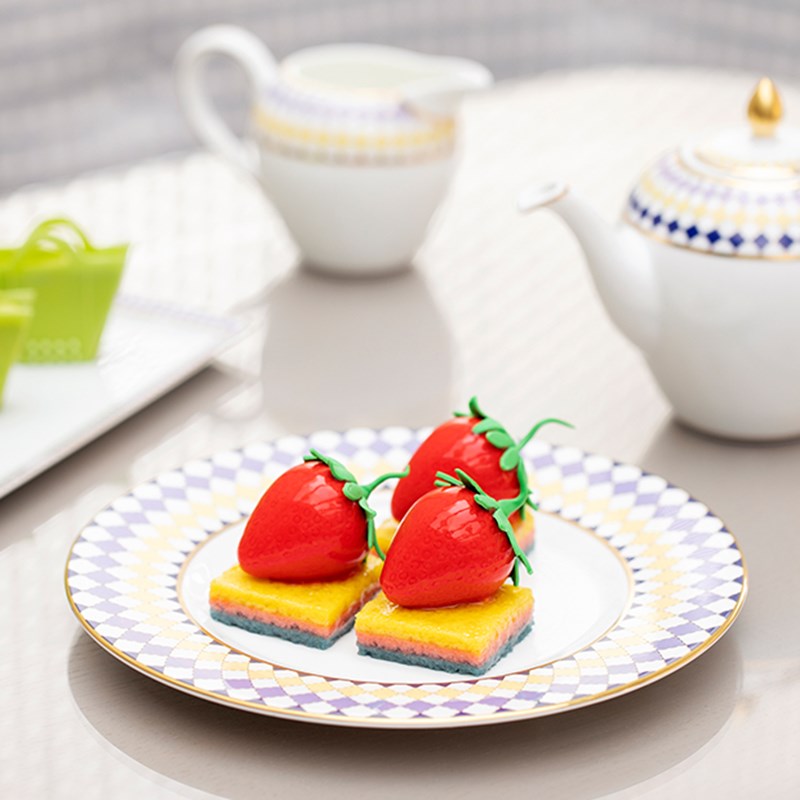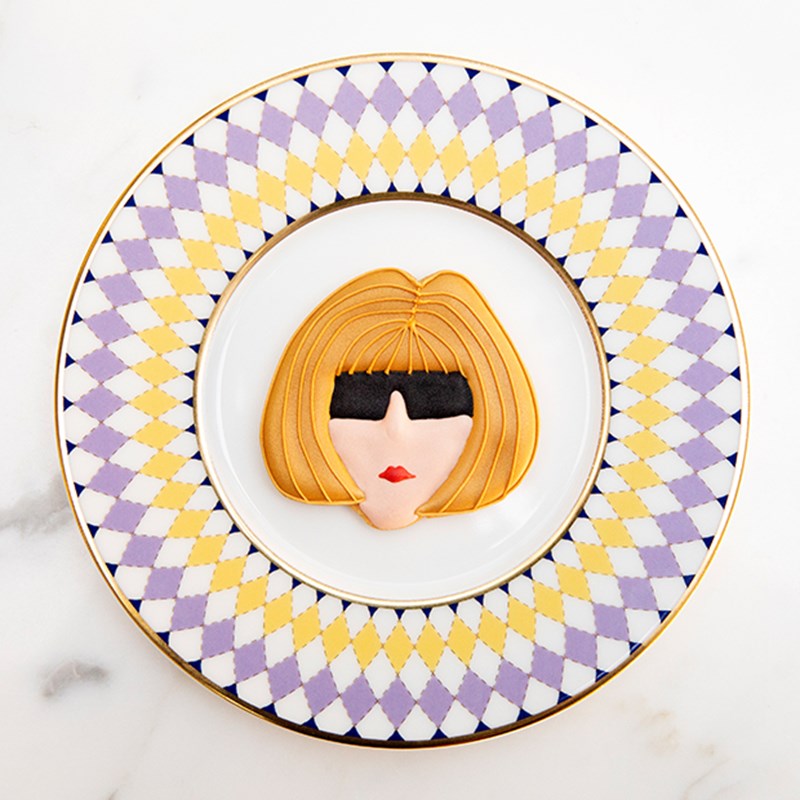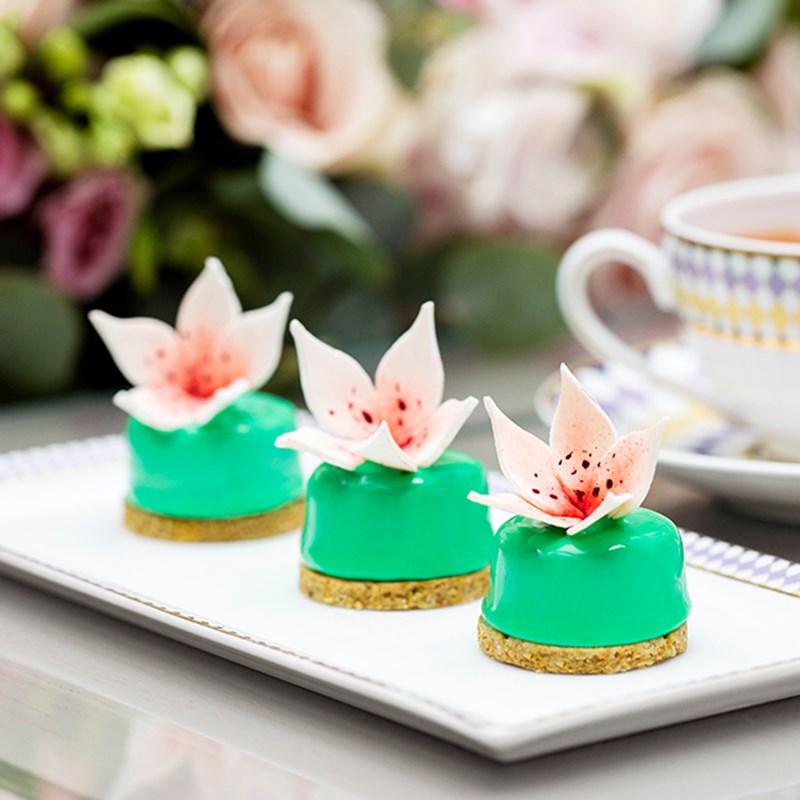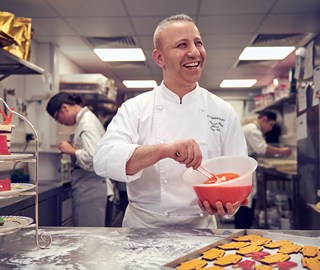 The perfectionist behind the pastry
Following in his pâtissier father's footsteps, the art of afternoon tea is personal for Head Pastry Chef, Mourad Khiat. Drawing on culinary traditions and catwalk collections from around the world, each delicate creation is an expression of Mourad's impeccable taste. Balancing beautiful flavours with intricate designs for the ultimate statement piece.
Read more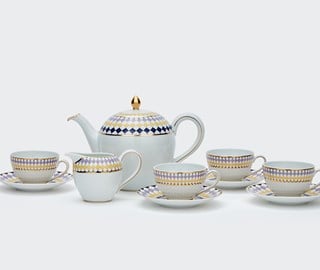 Time for tea, at home
Bring the style of The Berkeley home with our couture china tea set, availabe to purchase from our online shop. Capturing the sartorial style of Prêt-à-Portea, this set features the same indigo, yellow and lilac palette you'll find in the Collins Room and is made exclusively for The Berkeley by Bernardaud.
Shop now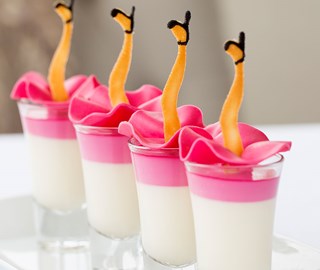 High-fashion bakes and biscuits
'Prêt-à-Portea: High-Fashion Bakes and Biscuits' was published to celebrate the 10th anniversary of our iconic afternoon tea with 20 recipes and baking techniques from the hotel's Head Pastry Chef Mourad Khiat.
Buy the book