Prêt-à-Portea: the Couture Cakewalk
Arriving perfectly dressed for the new season, the Spring/Summer 2022 Prêt-à-Portea collection showcases couture cakes inspired by designers from Lanvin to Gucci. A contemporary twist on afternoon tea, this playful and stylish edit is set to become another favourite for sweet-toothed fashionistas.
This season's collection opens with Oscar de la Renta – a striking orange gown crafted with apricot bavarois, salted Manuka honey and apricot ganache, topped with a meringue frill. A hero handbag from Michael Kors – whose bags were seen filled with flowers on the catwalk – has been created as a Victoria sponge with fresh strawberry jam, wrapped in an Opalys chocolate cylinder with flowers intricately piped with lime butter cream.
Gucci's pink silk tuxedo has been reimagined in bourbon vanilla mousse and Emmanuel sponge, layered with peach compote and glazed with shimmering pink icing. This is finished with a thin chocolate jacket and bow tie. Meanwhile, Lanvin's towering floral platform heels will stomp down the cakewalk made from chocolate biscuit, painstakingly piped with royal icing.
Schiaparelli's couture golden mini dress combines caramel sponge, dark Valrhona chocolate and hazelnut praline, all topped with a shimmering, chocolate oversized collar. Richard Quinn's buttercup yellow gown is immortalised in ice cream – chocolate wafer cones are filled with fresh fruit compote and pineapple and star anise sorbet, topped with bright yellow chocolate waves.
Finally, the Prêt-à-Portea pastry team have created a showstopper of a cake – designed to share – paying homage to Saint Laurent's floral jumpsuit. An oversized red rose made of lychee mousse with fresh raspberry is set on a glossy white coconut cake, and finished with a green chocolate leaf.
As always, your tea also includes elegant canapés and sandwiches, with a selection of loose-leaf teas from our extensive collection.
From 1st September 2022, Prêt-à-Portea will be priced from £75 per person.
Reservations
Reservations at The Berkeley can be made up to 90 days in advance.
Opening Times
Afternoon Tea is served Monday - Sunday: 1pm - 5.30pm.
Send a personalised gift via email or post.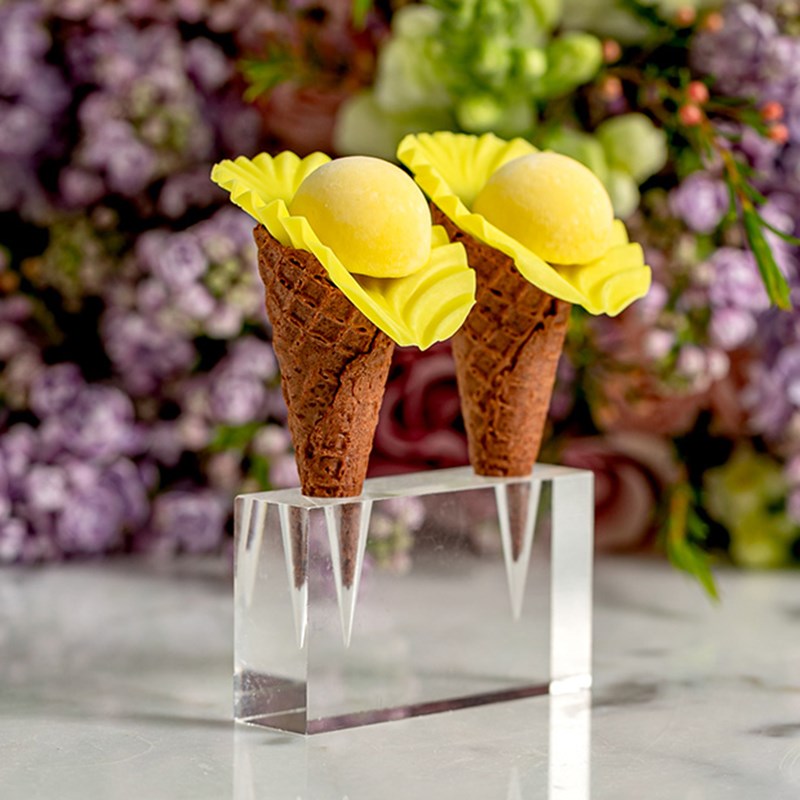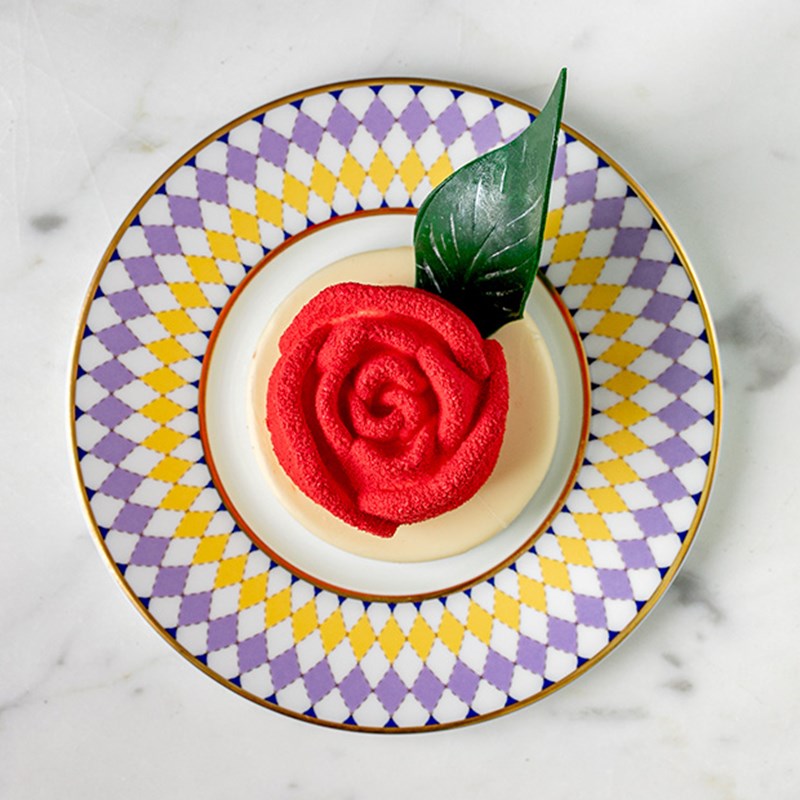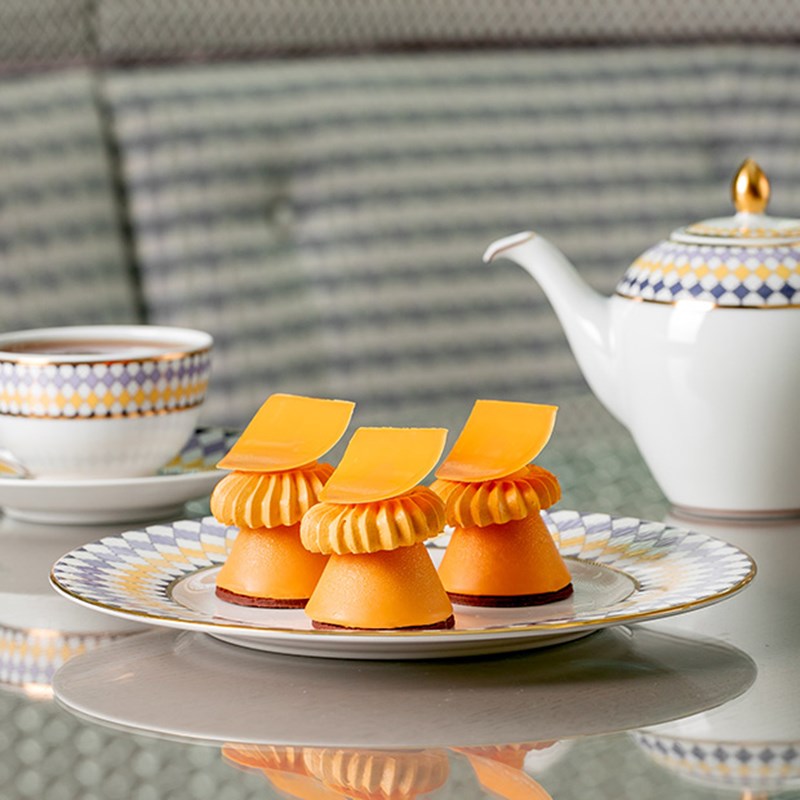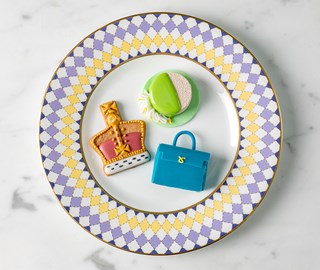 Platinum Jubilee Edition
From Monday 30th May to Sunday 12th June, Prêt-à-Portea will be served with three special creations, each representing one of Her Majesty's most iconic fashion signatures. First, one of the Queen's most summery hats has been crafted with lime cheesecake, fresh lemon compote and almond sponge. This is finished with a flowery garnish.
Find out more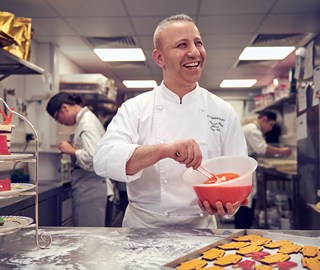 The perfectionist behind the pastry
Following in his pâtissier father's footsteps, the art of afternoon tea is personal for Head Pastry Chef, Mourad Khiat. Drawing on culinary traditions and catwalk collections from around the world, each delicate creation is an expression of Mourad's impeccable taste. Balancing beautiful flavours with intricate designs for the ultimate statement piece.
Read more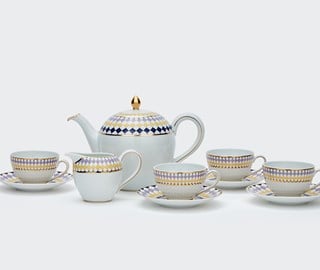 Time for tea, at home
Bring the style of The Berkeley home with our couture china tea set, availabe to purchase from our online shop. Capturing the sartorial style of Prêt-à-Portea, this set features the same indigo, yellow and lilac palette you'll find in the Collins Room and is made exclusively for The Berkeley by Bernardaud.
Shop now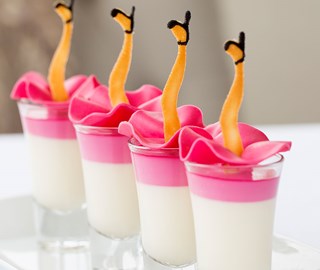 High-fashion bakes and biscuits
'Prêt-à-Portea: High-Fashion Bakes and Biscuits' was published to celebrate the 10th anniversary of our iconic afternoon tea with 20 recipes and baking techniques from the hotel's Head Pastry Chef Mourad Khiat.
Buy the book