Prêt-à-Portea: the Couture Cakewalk
Striding onto the cakewalk for Autumn/Winter 2023, this season's Prêt-à-Portea is a playful and stylish selection of couture cakes inspired by designers from Victoria Beckham to Nina Ricci. A firm favourite with fashionistas with a sweet tooth, Prêt-à-Portea gives a contemporary twist to afternoon tea with a collection of bold catwalk-inspired creations.
This season's collection opens with a striking Versace gown, immortalised in vanilla mousse, Emmanuel sponge, a fig and plum compote, all topped off with a fashionable fruit tulle skirt. Harris Reed's standout coat for Nina Ricci is crafted with Valrhona dark chocolate supreme and yuzu ganache, set on a citrus pain de gênes and finished with a chocolate statement collar.
Paco Rabanne's shimmering ensemble is a Mont Blanc cake with chestnut mousse and blackcurrant jelly, set on a light caramelised chestnut sponge and topped with a glittering feather. Prada's handbag of the season is a cinnamon blondie, glazed with silky white icing, and sandwiched with Ivoire chocolate. Victoria Beckham's trophy jacket is an orange sablé, intricately piped with royal icing.
Missoni's legendary zigzag – this season showcased on a maxi coat – is depicted with mandarin mousse and almond praline, wrapped in Joconde sponge, and topped with chocolate zigzags. Finally, this season's showstopping sharing cake is an Alexander McQueen gown, combining chocolate Gianduja cream, miso caramel and hazelnut sponge, finished with high-shine shimmering glaçage and a chocolate frill.
As always, our afternoon tea in Knightsbridge also includes contemporary canapés and sandwiches, with a selection of loose-leaf teas from our extensive collection.
Prêt-à-Portea is priced from £80 per person (excluding seasonal and festive collections)
Reservations
Should you be running late for your reservation, please do call us on the following number: 0207 235 6000
Opening Times
Afternoon Tea is served Monday - Sunday: 1pm - 5.30pm.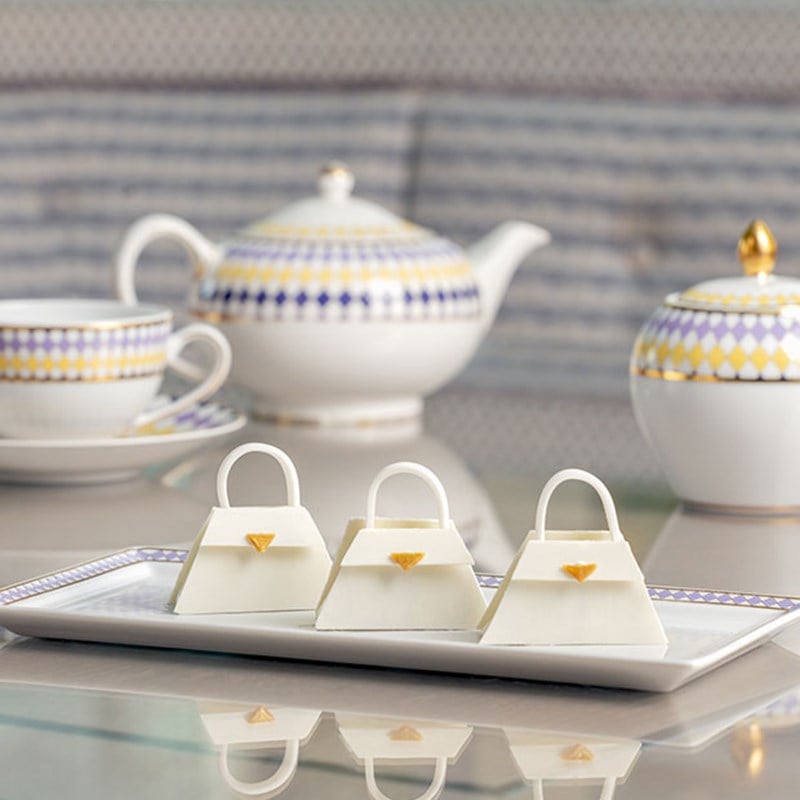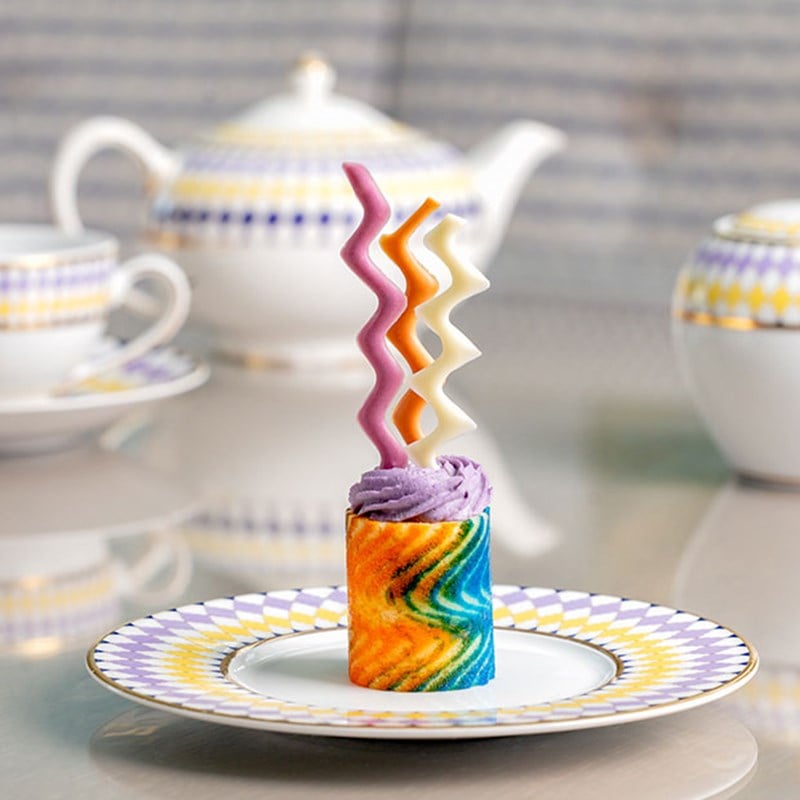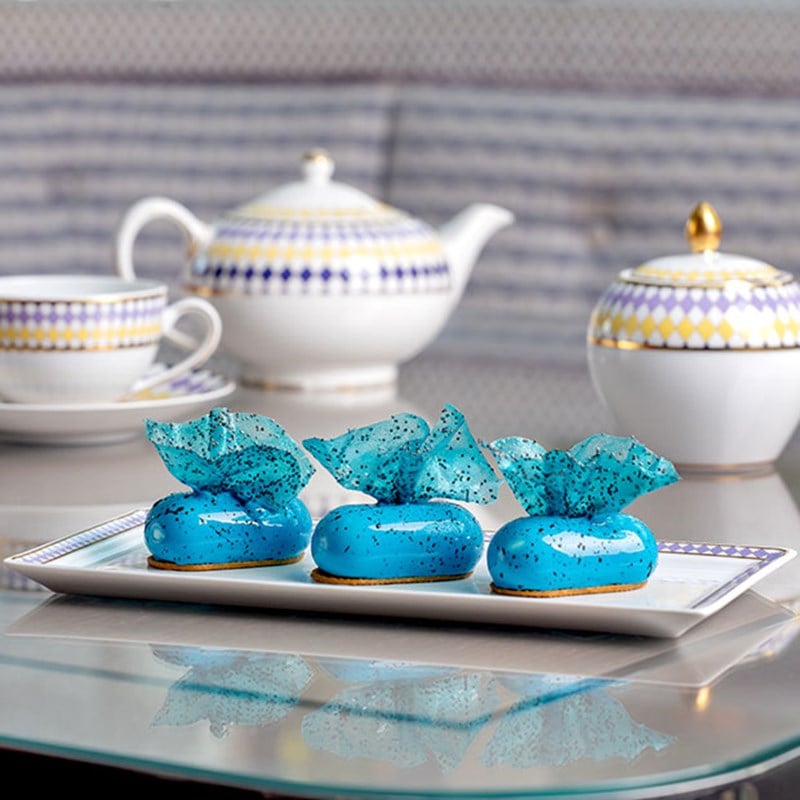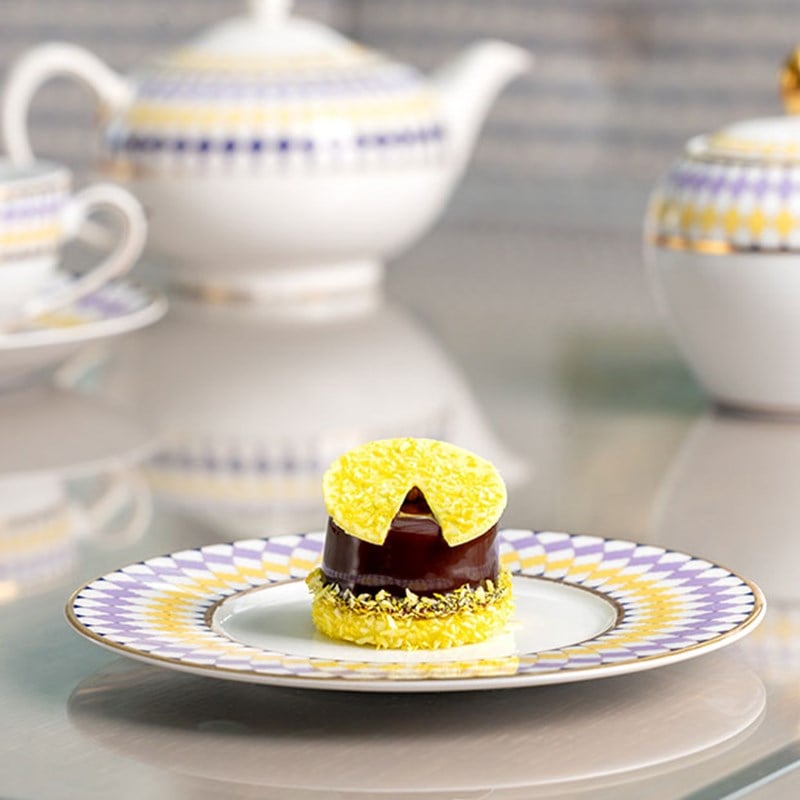 The Festive Edition
Introducing the festive addition to our Prêt-à-Portea 'cake walk'. Paying homage to Balmain with oversized bows and pearlescent details, this velvety cheesecake creation is filled with a quince compote and pain d'épices sponge, topped with a sugar bow providing the final, party-ready flourish. Served from 10 November 2023 - 7 January 2024 with our Festive Prêt-à-Portea menu, from £100 per person. This includes our fashion-inspired delicacies, as well as festive treats and your choice of a glass of champagne or a seasonal mocktail.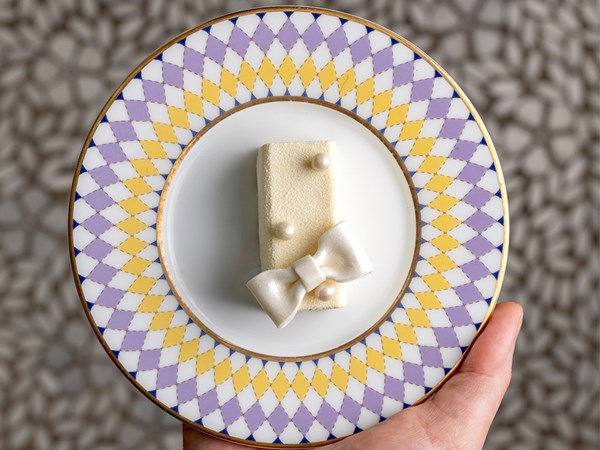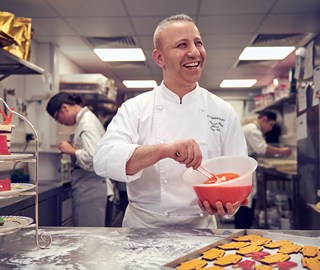 The perfectionist behind the pastry
Following in his pâtissier father's footsteps, the art of afternoon tea is personal for Head Pastry Chef, Mourad Khiat. Drawing on culinary traditions and catwalk collections from around the world, each delicate creation is an expression of Mourad's impeccable taste. Balancing beautiful flavours with intricate designs for the ultimate statement piece.
Read more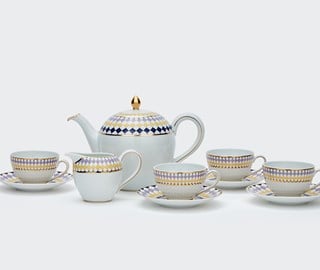 Time for tea, at home
Bring the style of The Berkeley home with our couture china tea set, availabe to purchase from our online shop. Capturing the sartorial style of Prêt-à-Portea, this set features the same indigo, yellow and lilac palette you'll find in the Collins Room and is made exclusively for The Berkeley by Bernardaud.
Shop now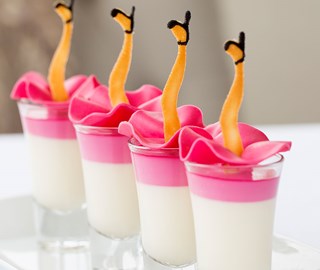 High-fashion bakes and biscuits
'Prêt-à-Portea: High-Fashion Bakes and Biscuits' was published to celebrate the 10th anniversary of our iconic afternoon tea with 20 recipes and baking techniques from the hotel's Head Pastry Chef Mourad Khiat.
Buy the book