Your Fashionista's Tea includes
A delicate collection of cakes and fancies inspired by the world's finest designers:
Ralph & Russo's pretty in pink dress transformed into a wafer cone filled with pineapple and kalamansi supreme – a frozen first for Prêt-à-Portea.

Richard Quinn's vibrant floral display comes to life as an upside down black forest gâteau topped with an edible flower.

Versace's printed cady mini dress transformed into an exotic bavarois with a rainbow meringue and finished with a sugary tribute to one of our favourite style icons, Marilyn Monroe.

Dolce & Gabbana's daring queen of hearts dress, now an almond sponge layered with apricot jelly, rhubarb confit and orange blossom cream crowned with a chocolate card.

Erdem's glitzy gold and black baroque floral print dress recreated as a chocolate mousse topped with red hot sugar bow.

Ellie Saab's pink fade dress strides out as tuile biscuit cylinder filled with raspberry crémeux and summer berry compote, accentuated with oversized red sunglasses.

Tom Ford's hot pink stiletto steps onto the cakewalk as a chocolate biscuit iced with pink and white royal icing.

Miu Miu's yellow swimsuit makes a splash as a vanilla flavoured biscuit.

Aruna Seth's brilliantly British butterfly handbag makes a debut on the stand as a Victoria sponge cake with redcurrant compote.
Loose leaf teas & Herbal Infusions
Savoury Loose Leaf Tea Pairings
Nilgiri Frost, Bohea Lapsang, Ceylon & Rose, Assam Breakfast, Earl Grey, Iron Budda, Whole Peppermint leaf, Whole Chamomile Flowers, Lemongrass & Ginger, White Peony, Jadesword Green.
Sweet Loose Leaf Tea Pairings
Earl Grey, Wuyi Oolong, Jasmine Silver Needle, Blackcurrant & Hibiscus.
Premium Savoury Loose Leaf Tea Pairings
Monkey Picked Iron Budda, Phonenix Honey Orchid - £2 supplement.
Dragonwell Green - £2 supplement.
Matcha Supreme - £3 supplement.
Vintage Cooked Puerh - £6 supplement.
Cold Infused Teas (£9 supplement)
White Peony, Assam Breakfast, Blackcurrant & Hibiscus, Whole Chamomile flowers.
Reservations

Email: dining@the-berkeley.co.uk
Call +44 (0)20 7107 8866
Afternoon tea reservations at The Berkeley can be made up to 90 days in advance.
Opening Hours
Prêt-à-Portea service: 1pm - 5.30pm daily
We cater for gluten and nut free diets. We tailor everything fresh to order, so please mention any dietary requirements when you make your reservation, and allow 24 hours' notice.
High-Fashion Bakes and Biscuits
'Prêt-à-Portea: High-Fashion Bakes and Biscuits' was published to celebrate the 10th anniversary of our iconic afternoon tea with 20 recipes and baking techniques from the hotel's Head Pastry Chef Mourad Khiat.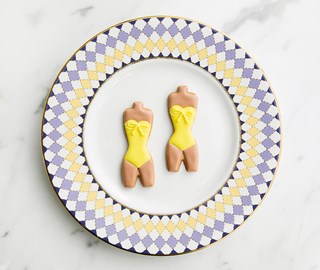 Champagne Prêt-à-Portea
Raise a toast in style with afternoon tea and a glass of Laurent-Perrier for £62.00 per person. Or go 'Couture' with a glass of Laurent-Perrier Rosé, Bollinger Rosé or Ruinart Blanc de Blancs for £70.00 per person.