Blue Bar Bikes
22 June 2020
The legendary Blue Bar celebrates its 20th anniversary this year and while we can't tempt you into the bar itself, we can now whizz our expertly mixed drinks to your doorstep with our new 'Blue Bar Bikes'.
With our bespoke cocktail delivery service, the slickest mixologists of the Blue Bar team, complete with ingredients and a full bar kit, will ride to our neighbours' doors via their new wheels to satisfy any tipple cravings, and mix the drinks there and then.
Whether it's shaken or stirred, a Martini or a Margarita, the team will bring a little Blue Bar magic, safely, to local homes. Up to six servings of two types of cocktail can be whipped up in a delivery and poured into the customers own glasses, or Blue Bar-clad glass can be purchased.
Bespoke cocktails start from £18 and Blue Bar-clad glass starts from £17.
Order yours
You can order a Blue Bar Bike to your home by getting in touch with us on +44 (0) 207 201 1653.
The Blue Bar Bikes will be serving from 5.30pm - 9pm, seven days a week with complimentary delivery to SW1X residents.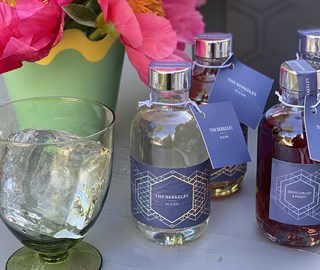 Cocktails to go
Bottled classic cocktails are also available and are beautifully presented in Blue Bar-clad glass. Varieties of favourites include the Negroni, Old Fashioned, Tommy's and Martini and come in two sizes - £22 for 200ml (2-3 servings) and £46 for 500ml bottles (5-6 drinks).
Browse the menu