Stunning venues. Exceptional service. Inimitable style. At The Berkeley, corporate events become stand-out experiences that leave a lasting impression. Our event spaces are suited for every occasion, combining contemporary conveniences and traditional style for a one-of-a-kind setting.
We host:
Conferences
Seminars & presentations
Meetings
Lunches/dinners
Networking cocktail receptions
Business facilities
We've all the latest gadgetry, plus traditional technology such as multiple telephone and ISDN lines.
We can provide:
Complimentary Wi-Fi
Audio-visual technology
Sophisticated stage sets, sound systems and presentation equipment
Contact us
Call: +44 (0)20 7201 1385
Email: events@the-berkeley.co.uk
Group Bookings
We welcome groups of 10 or more guest rooms per night to The Berkeley and are committed to providing tailored rates to suit your needs.
All groups staying with us will receive:
Five complimentary VIP welcome amenities.
Complimentary WiFi in guestrooms and meeting space.
Bottled still water with our compliments at daily turndown.
Complimentary daily newspapers to all attendees.
A tailor made gift from the hotel for the entire group on arrival or departure.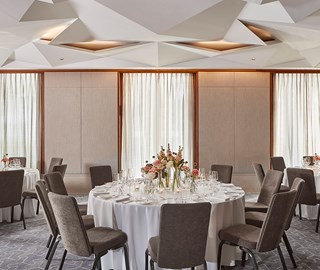 Event Spaces
From intimate meetings to conferences for 250, we have the event space you need – with state-of-the-art facilities and service to match.
See our spaces
Social Events
Baby showers, bar mitzvahs and birthdays. Anniversary dinners and grand gala banquets. Life's full of special events worth celebrating. Whatever your reason for throwing a party – or even if you have no reason at all – we'll make it one to remember.
Plan your party
Weddings
A thoroughly modern ceremony in a cutting-edge ballroom? Or something a little more intimate, with a classic touch? We're here to make your dream day come true. Though you may still end up pinching yourself, just to make sure.
Plan your wedding