A day in the life of our head pastry chef
Get an insight into what inspires Mourad Khiat, the pastry genius behind Prêt-à-Portea…
GETTING ORGANISED
"My father was a pâtissier so this is in my blood"
My day at The Berkeley generally starts around 8am. Our first step is to make sure the team knows their tasks for the day. We work in limited space that needs to be very well organised. Forward planning is essential so that the service continues uninterrupted – for instance if there is a special event, or a wedding. Up to 200 people might be at an event, so preparation needs to run as smoothly on that sort of day as any other.
My father was a pâtissier so this is in my blood. I have also travelled far and wide, gaining a real understanding of cultural culinary approaches to pastries, desserts and so on. When I make a sticky toffee pudding, or a chocolate mousse, they are always the best they can be.
FASHION INSPIRATION
"We will never compromise taste for design"
When Prêt-à-Portea started, we thought it would be an interesting six-month trial. Now, over 10 years later, people are travelling from all over the world to try it.
Its success means I have to be ready to talk to the media; Fox5 News covered our stay at Bergdorf Goodman in New York – the presenter took one of our Louboutin-inspired biscuits and placed it alongside her own Louboutin-made shoes. It really caught people's imagination and we were fully booked for the rest of our visit there.
If I'm working on a new collection for Prêt-à-Portea, I'll take time out looking for patterns, shapes and signature items that I find exciting in the new collections. Once I have something I'd like to replicate, I get cooking as soon as possible and choose ingredients and processes that will help realise the item.
The Royal Collection is a great example. It includes a praline profiterole inspired by the Philip Treacy fascinator worn by Princess Beatrice at the Royal Wedding, as well as Queen Elizabeth II's crown worn for her coronation, which we have recreated as a vanilla biscuit with intricate icing and sugar diamonds.
As good as our creations look, they must taste delicious. We will never compromise taste for design. You're coming for tea – not a hat show.
I encourage all the members of the team to contribute, because they play an important part in what we produce. Day to day, it is in the development of the team, in their skills, that I take a great deal of pride.
TEA TIME
"Seeing how much people enjoy it is a great reward"
Prêt-à-Portea gets under way at 1pm, and so I'll make sure the team is ready for the busy hours ahead. I have someone checking every single tea stand before it reaches the customer. Each one must be dressed to the very highest standards. On most days, I will pop upstairs and spend time in the Collins Room during tea talking with regulars and new customers. I find this absolutely inspiring, and hearing people's views and seeing how much people enjoy it is great reward for the hard work the team puts in.
In the afternoon, I take some time out to catch up on paperwork. I am far happier cooking, but occasionally the correspondence includes a special request. For example, I was asked to design a unique biscuit for the launch of Sarah Jessica Parker's new perfume at Harrods. Things like this add to a sense of challenge and require new inventions.
PREPARING FOR TOMORROW
"My day ends with a nice cup of tea and a biscuit"
I also need to order fresh produce every day. I need to think about what events might be coming up, or what VIPs are present, and what stocks we have of key ingredients. We bring in as many ingredients as we can fresh that day, so I have to manage the stock very carefully.
Once the order is placed, I can concentrate on evening service and making sure that the team are well-briefed for the following day. We provide pastries for breakfast, and puddings for lunch and dinner so we have to make sure we have all these covered.
Most days I'll finish around 10pm. When I get home, I'll try and relax, but even that involves reading the latest issue of Le Journal du Pâtissier. And, usually my day will end with a nice cup of tea, and a biscuit. But I can't reveal which one!
...seeing how much people enjoy it is a great reward...
Mourad Khiat, Berkeley Pastry Chef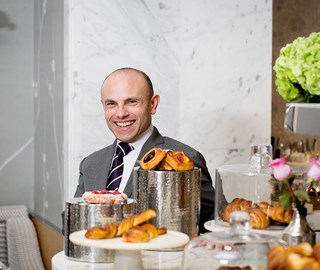 Our Maître D'
Antonio Sitzia is the heart and soul of the Collins Room, seeing every day as an adventure.
Read more