Under bright skies, the Blue Bar glows anew – with reimagined mixology and late-night vibes making it this season's coolest hotspot.
David Collins' original blues provide the backdrop for contemporary accents and technicolour cocktails. And from the effortlessly elegant Mirror Martini or toffee-infused Pop Connection, Bar Manager Marcello Cauda and his team have distilled the bar's iconic heritage into a captivating new collection.
Whether settled into a cosy nook or star-gazing in the glass-lined pavilion, high spirits are accompanied by soon-to-be-cult bar snacks and vinyl sets from dusk to (almost) dawn.
Sample Menu
Opening hours
Tuesday - Saturday: 5.30pm - 1am
Join us for our DJ vinyl sessions Thursday to Saturday at 9:30pm - 00:30am
Child policy
Only children who are resident at the hotel may enter the bar, if accompanied by an adult. Please note that children are welcome in the bar until 6pm.
New Year's Eve at the Blue Bar
As we gear up to welcome in the new year, the legendary Blue Bar at The Berkeley, created by the late great designer David Collins, is set to host an electrifying New Year's celebration like no other, in collaboration with Champagne Laurent-Perrier. Immerse yourself as London's hottest vinyl DJs create an unforgettable atmosphere, and indulge in the signature cocktail, Celebration Elixir, which includes Champagne Laurent-Perrier's iconic Cuvée Rosé, setting the tone for an evening filled with effervescence and luxury. Tickets are priced at £70 per person.
To book, please email: jbiel@the-berkeley.co.uk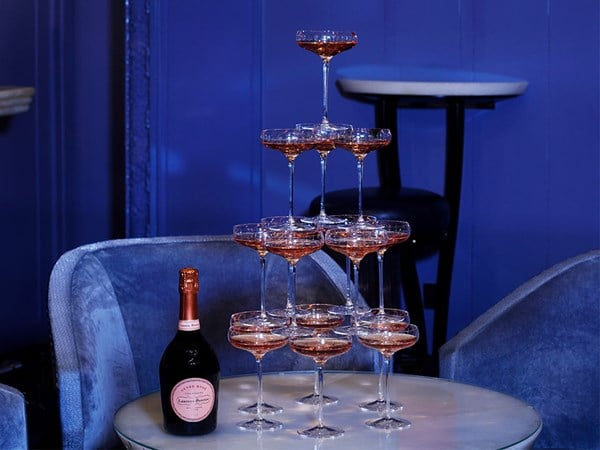 Presenting the Pavilion
This season, the Blue Bar takes on a rhythm of its own. Reserve the Pavilion to set the soundtrack, with a private DJ spinning the vinyl available on request. State-of-the-art decks and records sit against a backdrop of floor-to-ceiling tassels, creating a bespoke space for drinking and dancing, cocktails and conversation – for up to 30 guests.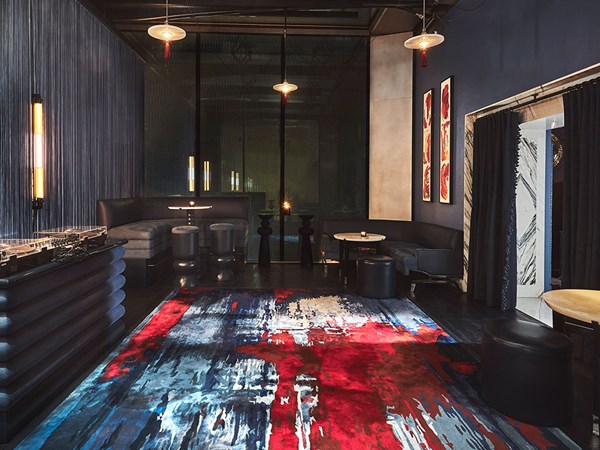 Cocktail o'Clock
Vinyl sleeve menus nod to the Blue Bar's musical legacy, with twelve new cocktails that blend rich history with forward-thinking flavours. As colourful and creative as the space in which they're shaken, stirred and served, highlights include 'I'm Blue', a refreshing and slightly sweet disco-inspired drink that captures the vibrant energy of the Blue Bar team and 'Mirror Martini', a fruity and dry gin-based cocktail, served in a mirror coated martini glass – an affectionate nod to the signature mirrors on the wall.
CRAZY FOR BLUE
Original architectural features meet contemporary design in the Blue Bar, refreshed for the season. With David Collins' Lutyens Blue colour scheme a striking constant, bold new additions by Robert Angell breathe new life into this timeless space.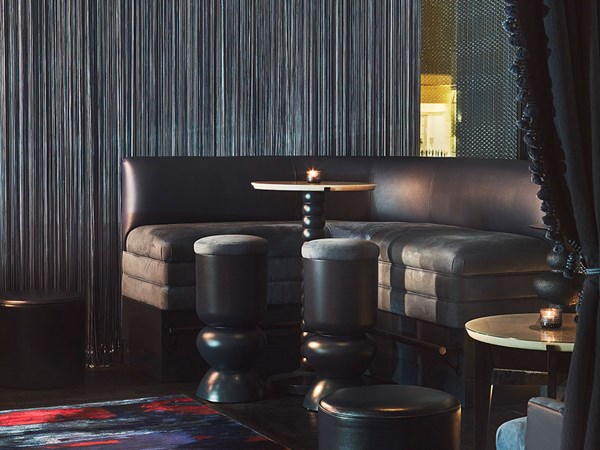 Late-night bites with a twist
Longtime favourites including the brie, Wiltshire ham and truffle toasties are now joined by steak tartare crumpets, topped with confit egg yolk and pickled shallot, while classic churros are served laden with lashings of shaved Manchego cheese. Discover elevated small plates, from Dorset crab tacos and Angus beef sliders to a 5-star take on the humble hot dog.