Walking into the Collins Rooms is like taking a breath of fresh air. Created by acclaimed designer Robert Angell, this charming dining room has become a firm favourite with fashionistas and food-lovers alike.
However grey the London skies it's always light in the Collins Room. We're open all day, so join us whenever you like for a delicious breakfast, lunch, dinner, or drinks in between. Or take a front row seat for our afternoon Prêt-à-Portea – a delectable homage to the world of fashion.
Sample Menus
Collins Room is open for residents only.
Opening hours
Monday - Sunday:
Breakfast: 7.30am - 10.30am
Monday - Friday:
Lunch: 12pm - 2pm
Beverage Service: 7am - 5pm
Reservations
Email: dining@the-berkeley.co.uk
Call +44 (0)20 7107 8866
(Our reservations office is open Monday to Sunday from 9am to 6pm)
Send a personalised gift via email or post.
Inspired Design
Named after the legendary David Collins, this space was exquisitely redesigned in 2016 by Collins's protégé Robert Angell.
Prêt-à-Portea
This season's Prêt-à-Portea collection showcases hot-off-the-catwalk cakes and silhouettes in sugar work, and features an enticing new addition: a monthly one-off creation designed by a fashion world icon.
Discover the collection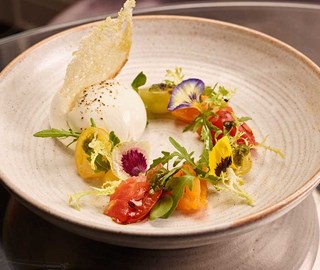 All-Day Dining
Executive chef Shaun Whatling works his culinary magic, serving up fresh daily specials using the finest ingredients. Think colourful salads, light risottos, fish cooked to perfection or impeccable British classics like shepherd's pie and roast chicken. Just remember to leave room for dessert.